Monday to Friday :
8am-12pm / 2pm-6pm
Saturday :
Open 3 Saturdays out of 4

Les Lisières

veterinary practice
The veterinary practice of Les Lisières welcomes you in Gland, on the shores of Lake Geneva, in the region of La Côte, between Terre Sainte, Nyon and Rolle. Quality care, kind attention and transparency are our priorities.
Our team is at your disposal to provide the best care for your dogs and cats, for many years of shared happiness.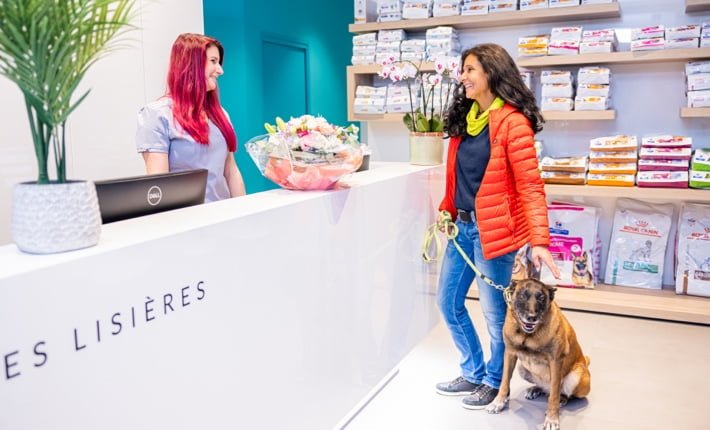 Our philosophy is based
on three axes:
Softness, empathy and benevolence
Competence
Hygiene and
ergonomics
During your little friend's visits to the office, we want to preserve his or her well-being at all times, or at least limit stress as much as possible for the most sensitive.
New, bright, ergonomic premises have been designed for maximum hygiene, and a pleasant and soothing environment.
We use all our skills and experience to offer the best quality of care and follow-up, whether in consultation, examinations or hospitalization. Our various specializations are there to meet the needs of your dog or cat as much as possible.
Our complete technical platform
Our clients
have the floor:
Mme Annick Bron
«
I have complete confidence in the care and diagnosis of my animals (cats and dogs). Several of them have been saved by the observation and insight of my veterinarian. I am lucky and grateful to have met her, and my loves are too. She is a person who exudes love for animals and they feel it! Thank you Dr Hamelin!
»
Ms. Nadine Stutz
«
Finally! A veterinarian who works from the heart and for the pure love of animals. What a pleasure to be in confidence, it is extremely rare!
»