Monday to Friday :
8am-12pm / 2pm-6pm
Saturday :
Open 3 Saturdays out of 4

The clinic is also equipped with an X-ray room with a digital flat panel sensor. This allows us to obtain very good quality images in order to make an accurate and quick diagnosis of your pet's health.
Radiology allows the refinement of many diagnoses, whether it be for :
Thoracic pathologies (pleural or pericardial effusion, pulmonary edema, pulmonary or mediastinal tumor, etc.),
Abdominal pathologies (urinary stones, stomach dilatation, abdominal mass, etc.)
Bone pathologies for the detection of fractures, the follow-up of their healing, or during bone tumors.
We also offer a screening examination for hip and elbow dysplasia, which are joint deformities leading to instability and the subsequent development of osteoarthritis. This examination is performed in the office, under anesthesia, and consists of a series of standardized X-rays that are analyzed by the university commission in Bern or Zurich.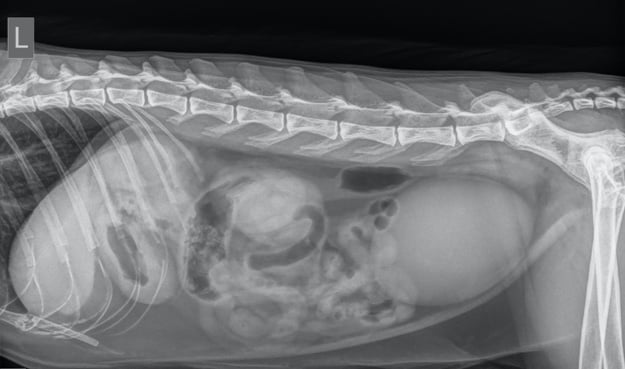 We have a state-of-the-art ultrasound machine that allows us to perform accurate abdominal and thoracic ultrasound for a quick and accurate diagnosis. The comfort of the animal and the absence of stress is our priority during the examination. Tranquilization can be considered if needed.
Abdominal ultrasound is indicated in many cases. It allows the observation of each abdominal organ, the diagnosis of tumors, urinary stones, digestive foreign bodies, the search for ectopic testicles, the diagnosis of gestation in the monitoring of reproduction, and the determination of the fetal heart rate.
Ultrasound also offers the possibility of sterile puncture:
Urine, in order to perform a urine analysis with bacteriological examination,
Effusions (thoracic or abdominal) to determine their origin,
Masses (thoracic, abdominal, cervical, or other) to determine their nature.
Punctures are very often a powerful diagnostic tool.
For cardiac ultrasound examinations, we refer our patients to veterinarians specialized in cardiology.